Why invest with PAMS in the DFW real estate market?
Professional Asset Management & Sales was created to serve real estate investors with the highest level of professionalism and competence. We strive to help each investor achieve maximum profits. We do this by working closely with investors right from the start, providing you top-notch services you desire.
Our staff has over 20 years of investment and property management experience. No matter the status of your current portfolio, we will continue to assess your needs as an investor. By maintaining constant communication with you, we can determine which direction to take your portfolio as it changes. Whether you wish to increase the number of investments in your portfolio, downsize, or just maintain what you have, our staff is here to provide professional guidance when needed. You can count on us to be available any time to answer questions, provide feedback, and offer sound investment advice regarding the Dallas/Fort Worth Metroplex and the status of its real estate investment market.
We have dependable, knowledgeable real estate agents and a staff of professionals to assist you from the very beginning. Because your investment is so important to you, we have created a management module that is suited to protect your investment. Our company goes above and beyond what other management companies provide. We are proud of the services we offer and guarantee your complete satisfaction!
What makes the DFW market so special?
Dallas–Fort Worth economic growth remained on track in November. Payroll employment grew at a rapid clip, and unemployment stayed low. The Dallas and Fort Worth business-cycle indexes expanded at an above-average pace. Housing market indicators suggest steady home-price appreciation and continued homebuilding activity. Home inventories remained tight, particularly at the lower price points.
Labor Market
Payrolls Expansion Robust
DFW employment rose an annualized 4.8 percent in November (Chart 1). Payroll expansion moderated to 1.8 percent in Dallas, while employment grew 12.8 percent in Fort Worth after declining for three months. Through November, Dallas has added jobs at a 2.2 percent annual rate, and Fort Worth employment has grown 2.8 percent.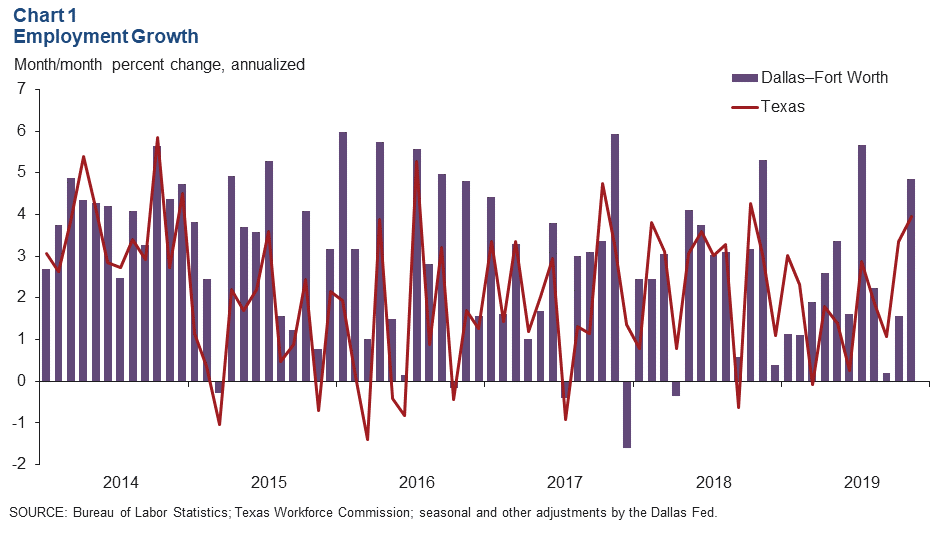 Unemployment Remains Low
The DFW labor market continued to be tight, with unemployment close to multiyear lows. In November, the unemployment rate remained at 3.2 percent in Dallas and 3.3 percent in Fort Worth (Chart 2). Unemployment remains below the state and U.S. rates.
Business-Cycle Indexes
Expansion in the Dallas and Fort Worth business-cycle indexes continued in November, supported by strong job growth. The Dallas index rose an annualized 4.4 percent, slightly slower than October's rate. Growth in the Fort Worth index was strong at 11.1 percent. Year over year in November, the Dallas index rose 4.6 percent, and the Fort Worth index was up 4.3 percent (Chart 3).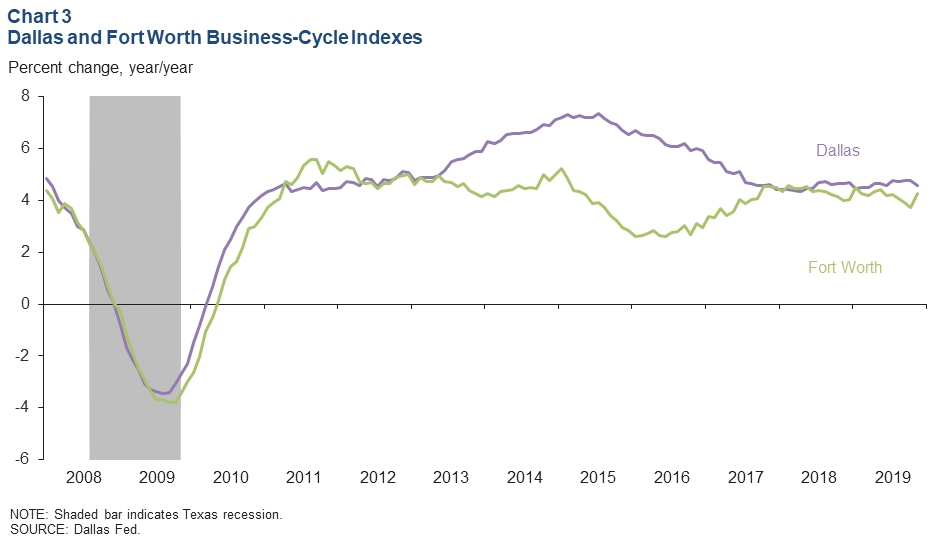 Housing Market
Single-Family Construction Rises
Homebuilding remained active in the metroplex, buoyed by housing demand. DFW single-family housing permits dipped slightly in October and November after rising strongly during the summer, and the three-month moving average showed continued growth (Chart 4). Through November, total single-family permits were trailing issuance for the same period last year by 4.0 percent in DFW but were 1.0 percent higher in Texas. DFW single-family permit growth decelerated to 3.4 percent last year after growing 15.8 percent in 2017.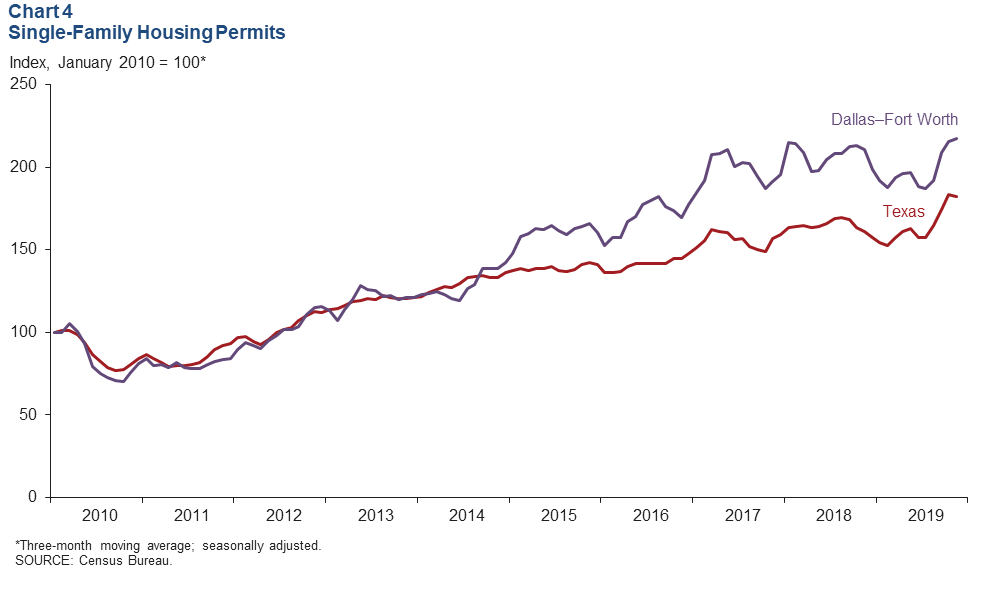 Home-Price Appreciation Holds Steady
DFW home prices rose in the third quarter as solid job creation and tight home inventories propelled increases. House prices rose 1.3 percent in Dallas and 1.2 percent in Fort Worth in the third quarter, according to the Federal Housing Finance Agency's house price purchase-only index. On a year-over-year basis, prices were up 3.8 percent in Dallas and 5.9 percent in Fort Worth, while U.S. and Texas prices both increased 4.9 percent (Chart 5). Home-price appreciation in the metroplex has slowed from its torrid pace in 2015–17, when prices in both Dallas and Fort Worth rose by 10 percent annually.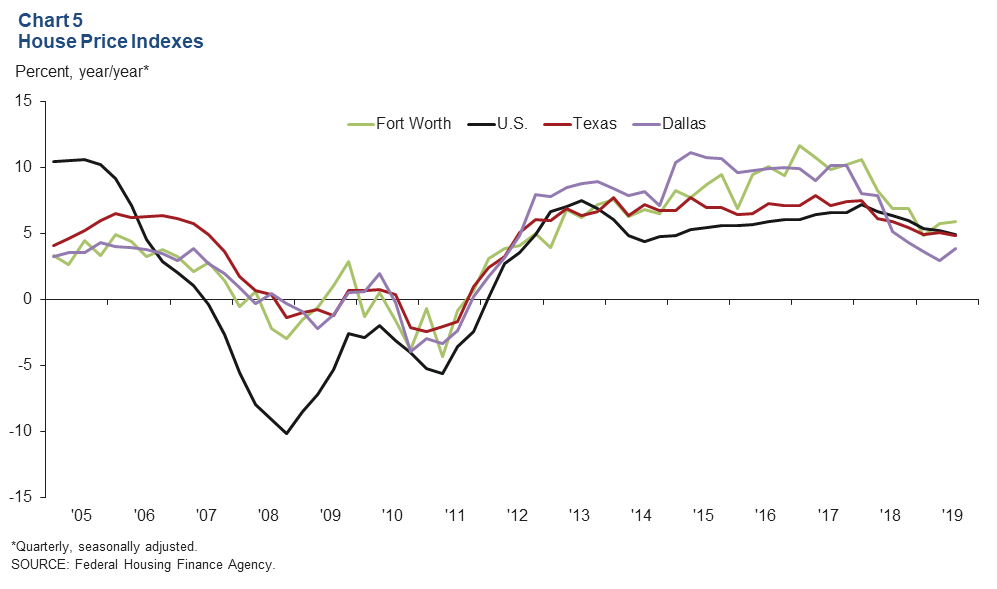 Home Inventories Stay Tight
DFW existing-home inventories remained tight and well below the six months' supply typically associated with a balanced market. Inventories inched up in 2018 but have been fairly stable this year; in November 2019, they were at 3.1 months in Dallas and 2.5 months in Fort Worth, slightly below the Texas and U.S levels of 3.6 months and 3.8 months, respectively (Chart 6). Inventories of entry-level homes (priced below $200,000) were the tightest around 1.6 months of supply—a level that has changed little the past three years. Inventories of homes priced from $200,000 to $299,999 were just over two months.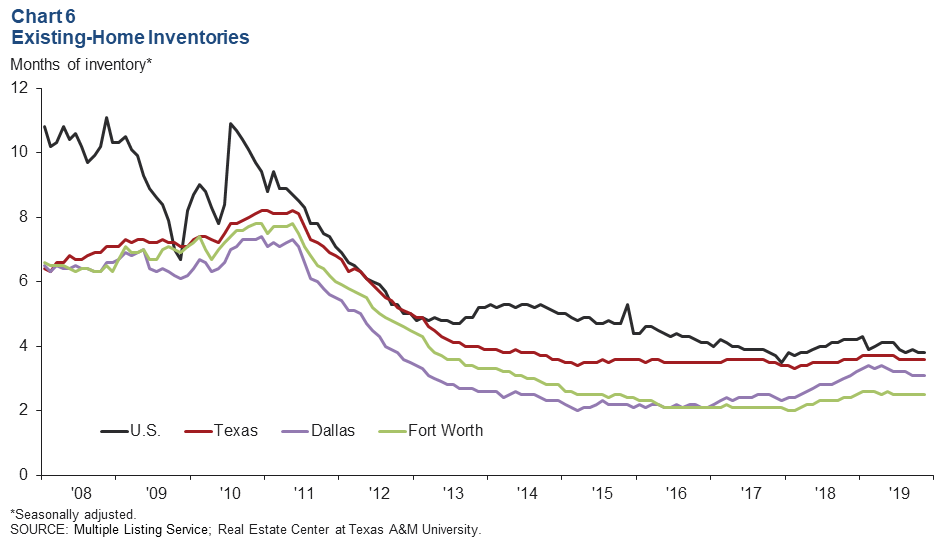 NOTE: Data may not match previously published numbers due to revisions.